DETAILED REVIEW OF "SHUBH MANGAL SAAVDHAN"
Directed By: R S Prasanna
Produced By: Eros International, Aanand L. Rai, Krishika Lulla
Star Cast: Ayushmann Khurrana, Bhumi Pednekar, Brijendra Kala, Shubhankar Tripathi
Duration: 1 hour 59 minutes
Rating: 2.5 /5*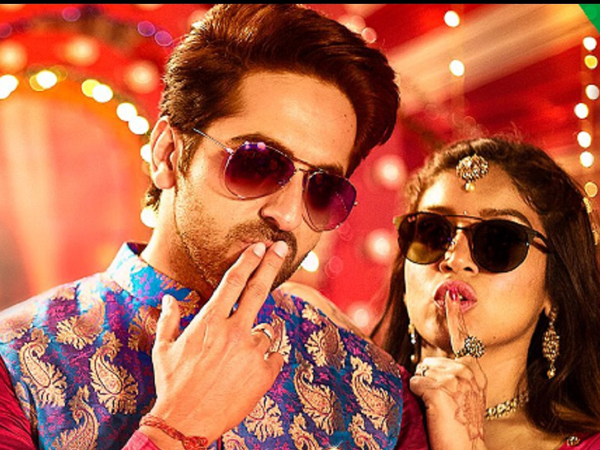 The much-appreciated jodi of Ayushmann Khurrana and Bhumi Pednekar is back once again. The duo who were last seen in 'Dum Lagake Haisha' will now be tackling the serious issue of erectile dysfunction in their recent release. The movie is a remake of the director R S Prasanna's Tamil hit 'Kalyana Samayal Saadham', it breaks the patriarchal notions of masculinity, but in a very humourous manner.
Story Of The Movie:

The story of the film has our superhero Mudit Sharma (Ayushmann Khurrana), fall in love at first sight with Sugandha (Bhumi Pednekar), and send an online marriage proposal to her. Both the families meet, got agreed and the two get engaged. Things take a turn when, one passionate night before the wedding day, Mudit realises that he's suffering from erectile dysfunction.
Now will Sugandha marry Mudit despite knowing Mudit's ' major gents problem'? Will Mudit be able to solve his issues? All this and many more questions will be answered in 'Shubh Mangal Saavdhan'.
Direction Of The Movie:

The highly tricky subject of erectile dysfunction is handled with utmost care by director R S Prasanna without resorting to any crass dialogues or over the top sequences that would have caused the film to fall flat. He has tackled the subject by inserting humour in it. The director is done by the lead pair and the wonderful supporting cast of Seema Pahwa, Brijendra Kala, Chitranjan Tripathy, Neeraj Sood as they ensure that the believable situations prevent it from stooping to raunchy humour.
Star's performance:

Bhumi Pednekar is a great delight to watch. She is so natural that her emotions and act of being loved by someone are truely magical. The actress has nailed the art of a small town girl to perfection. Ayushmann Khurrran as usual has surpassed himself as a man who is going through an emotional turmoil of erectile dysfunction. He has fantastically portrayed the pain and the shame that a young man undergoes in a traditional Indian society where it is time and again embedded in the mind of the youngsters that Mard Ko Dard Nahi Hota. His shyness, aggression are worth a watch.
Seema Pahwa genuinely deserves a special mention. She is the strongest pillar of the film who has some catchy dialogues. Her screen presence and comic timing are utterly impeccable. There's a scene where she tries to make an uncomfortable attempt to educate her grown up daughter about sex by drawing comparisons to a popular Arabian folk tale. It is hilarious, funny and heartwarming at the same time.
Watch or Not:
With an interesting and bold subject, 'Shubh Mangal Saavdhan' could have been a sparkling gem of a film. Except, the climax truly lets the film down. The film is slightly dragged towards the climax, but the dialogues and the amazing star cast hold it together aptly.
All in all, 'Shubh Mangal Saavdhan' is surely a must watch this weekend.
Watch the trailer of 'Shubh Mangal Saavdhan' here.