DETAILED REVIEW OF " LUCKNOW CENTRAL"
Directed By: Ranjit Tiwari
Produced By: Viacom 18 Motion Pictures, Nikhil Advani, Monisha Advani, Madhu G Bhojwani
Cast: Farhan Akhtar, Diana Penty, Deepak Dobriyal, Rajesh Sharma, Ronit Roy, Inaamulhaq, Gippy Grewal
Duration: 2 hours 27 minutes
Rating: 2.5/5*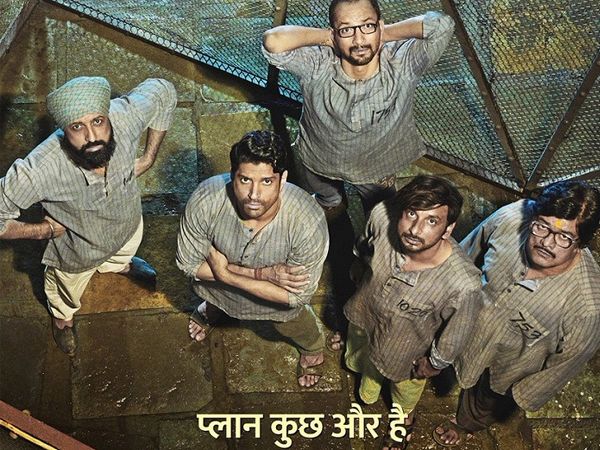 Amidst many films which fail to convey the story that it has to, debutant director Ranjit Tiwari made sure that his intentions with 'Lucknow Central' come out straight , deliver its message and on point.
Story Of the Movie:
Farhan Akhtar portrays the role of a passionate singer Kishen Mohan Girhotra based out of UP, who lands himself in the jail due to untrue accusations of committing a deadly murder. His passion for dinging and making a name is big, but the fact that he's behind the bars will only delay his plan to achieve what he wants.
Director's Performance:
The director has made a great effort at introducing the other characters from the film, Kishen's inmates. Due to some or the other disputes, Kishen meets Parminder (Gippy Grewal), Victor (Deepak Dobriyal), Pandit Ji (Rajesh Sharma) and Dikkat Ansari (Inaamulhaq). And then there is the only female lead, Diana Penty, who plays a social activist Gayatri Kashyap, who is working hard to make a musical band at the Lucknow Central Jail, which unites the five friends with a sole purpose of breaking free. Although, the jailer (Ronit Roy) has got a hint of their "real plan", the hidden agenda.
Star Performance:
Music and Farhan Akhtar have a strong connection ever since 'Rock On', but the music for this film is way different than his initial films. It talks more about ambitions and intentions, which has a group of people celebrating their passion for music. Although we expected the music to be the key factor for the film, it only remains situational.
Ronit Roy and Rajesh Sharma's acting are exceptional as compared to Farhan Akhtar who fails to leave a mark. Diana Penty is seen for a shorter screen-time and is decent. Manav Vij is quite efficient with his part in the film too.
The inner look and feel of the jail has been perfectly instilled by the production team with dim lights and and scary nights. 'Lucknow Central' as a whole looks very real with Tushar Kanti Ray's amazing cinematography.
Watch Or Not:
The first half moves slow in the transition from one event to the other as compared to the second half which is quicker and gives you an adrenaline rush. The direction is crisp, refined and conveys its message efficiently.
This one's definitely a one time watch for the efforts put by the entire team.
Watch Trailer:
Also See: Movie Review: "Simran" – An Outstanding Performance By Kangana Ranaut