Detailed Review Of "Poster Boys"
Directed By: Shreyas Talpade
Produced By: Sunny Sounds Pvt. Ltd, Shreyas Talpade, Deepti Talpade
Cast: Sunny Deol, Bobby Deol, Shreyas Talpade
Duration: 2 hours 11 minutes
Rating: 3.5/5*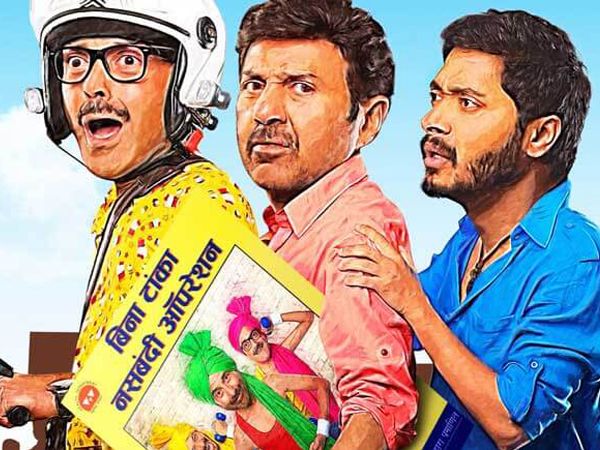 Shreyas Talpade is out with the Hindi version of the much loved Marathi film 'Poshter Boyz'. The movie brings back the Deol brothers on the big screen after a long time. So what happens when we have Sunny Deol, Bobby Deol and Shreyas Talpade sharing the screen space? We have a film that will tickle your funny bone along with some preaching on a social issue, as it is the latest trend in Bollywood .
Story Of The Movie
The story of 'Poster Boys' is set in a small North Indian village. where we have a retired army officer Jagawar Chaudhry (Sunny) and his wife Sonali Kulkarni. A local school teacher Vinay Sharma(Bobby Deol)living with his loving wife and two daughters. And the local goon cum Aashiq Arjun Singh (Shreyas Talpade) who is in love with his girlfriend Ria, but her family isn't in favour of their relationship. Well things start going downhill for them, when they find their pictures mysteriously appear on a poster promoting vasectomy. The trio are soon subjected to public shaming and finally decide to take this serious matter in their hands to prove their innocence. The movie is all about how they fight the system to prove their innocence.
Star Performance:
Kudos to Shreyas Talpade who has debuted as a director with 'Poster Boys' to handle the preachy subject with great humour. The first half of the film is crisp with some good comic punches. We just cannot stop our self from laughing our hearts out when Sunny's popular dialogue 'jab yeh dhai kilo ka hath padhta hai to aadmi uthta nahin, uth jata hai' and the 'Soldier Soldier' ringtone of Bobby Deol are interspersed in the story line.
Sunny Deol is truly amazing as a gentle lovable retired army officer who is trying his best to prove to his family that he has not undergone vasectomy. Bobby Deol's transformation from an action hero from his previous movies to the simple, sweet, shy Hindi teacher who speaks in chaste Hindi is truly a treat to watch. Shreyas who has mastered the art of comedy, has nailed the act as a local aashiq to conviction. Actress Sonali Kulkarni has nothing much to do.
Director's Performance:
The climax of the film is a little lengthy with some dose of preaching that puts a slight damper on things. The music too is insignificant. The way the writers Bunty Rathore and Paritosh Painter have managed to add humour to a serious social topic is mind-blowing.
Watch or Not:
'Poster Boys' is a must watch this weekend for a perfect dose of humour with a pinch of preaching on social issue plaguing our nation.
Watch the trailer of 'Poster Boys' here: