Full review of 'Sachin A Billion Dreams'
Star Cast: Sachin Tendulkar, Mahendra Singh Dhoni, Virender Sehwag, Anjali Tendulkar, Sara Tendulkar, Mayuresh Pem
Director: James Erskine
Producer: Ravi Bhagchandka, Carnival Motion Pictures
Rating: 3.5/5 Stars
Music Director: A. R. Rahman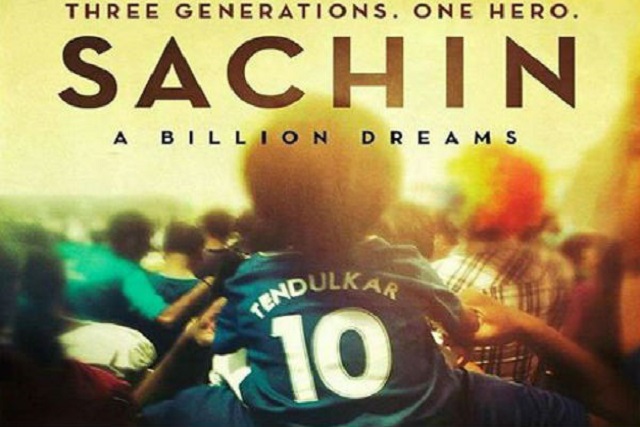 'God of the cricket' Sachin Tendulkar's biopic 'Sachin A Billion Dreams' has been released in cineplexes today. Directed by James Erskine the film covers the major aspects of Sachin's professional and personal life.
Story of the movie:
Sachin: A Bllion Dreams follows the real life journey of cricket's living legend Sachin Tendulkar from the time when he was a mischievous kid, to that moment when he bid adieu to cricket and left everbody in tears. While the world has been witness to his achievements on the pitch, the film takes us right back to his great beginnings, his dreams, aspirations and how he step-by-step got closer to realizing all those.
Star Performance:
Real-life personalities Sachin Tendulkar, Arjun Tendulkar, Mahendra Singh Dhoni, Anjali Tendulkar, Virender Sehwag and Sara Tendulkar appear in key roles and their performances are fantastic to watch on screen.
Music Direction:
A R Rahman's musical score is thumping and keeps the film's pace up. The Sachin anthem is phenominal and one of the best moments is Rahman's Vande Mataram being played to the iconic 2011 World Cup win post Dhoni's winning sixer.
Direction:
The film's direction is mind – blowing. Their real-life footages just add more beauty to the film. The movie has good production values. The movie has marvelous and inspiring screenplay that keeps the viewers engaged right from the begin till the end. Avdhesh Mohla's editing are the attractions on the technical front.
Watch Or Not: Sachin:A Billion Dreams is a treat for Sachin Tendulkar fans. Overall, it is a must watch.