Hindi Medium Full Review
Directed By: Saket Chaudhary
Produced By: T Series, Dinesh Vijan
Star Cast: Irrfan Khan, Saba Qamar
Duration: 2 hours 30 minutes
Rating: 3.0 /5 Stars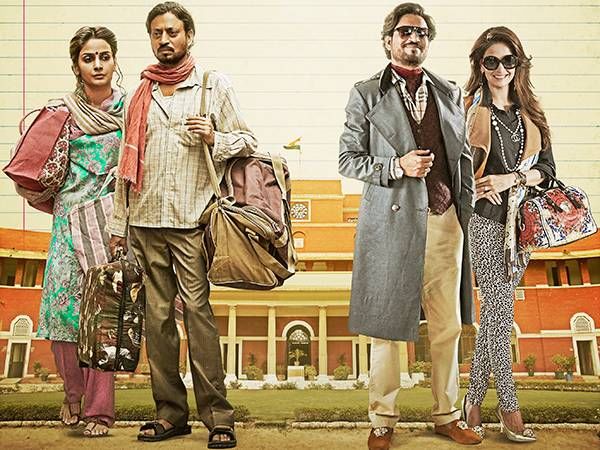 Irrfan Khan and Saba Qamar starrer " Hindi Medium" has been released in cineplexes.
Story Of The Movie:
Raj Batra (Irrfan Khan) and Mita Batra (Saba Qamar) are just another set of parents who, debilitated against the system, have relented to the labyrinth of a sheeny education system, something that often proves to be sadistic in reality. Raj, who originally was a tailor and fell in love with Mita in his young age, now owns a huge fashion store. However, the promotion has happened just in his financial and living cachet; he otherwise very much remains the Raj from Chandni Chowk in the finnest of his behaviour. Mita, however, is desperate to get her daughter admitted to one of Delhi's best English medium schools. She almost faints at the very name of a Government school. After spending a fat amount on a counsellor and putting the poor child through the roller coaster of many guidance, they find themselves nowhere as the child fails to break through any of the schools. The last option remaining is to exploit the RTE (Right To Education) quota for underprivileged children. What Raj and Mita do next, is what many parents must've planned in the past; no pun intended!
Star Performance :
Irrfan Khan literally brought his catastrophe to life and we could sense his conflicts; the conflict between Chandni Chowk and posh Delhi, the conflict between a father's duty and a man's morals, the conflict between wanting to become a perfect man and wanting to become the perfect husband. Throughout the film, the eyes were fixed on to him as he found himself tossed between moments and circumstances. The next surprise was Saba Qamar. How sad that Mahira Khan receives all the world's praise as she debuts opposite Shah Rukh Khan but no one gives a damn to this young, beautifully expressive woman as she teams up with not SRK, not Salman, not Aamir but Irrfan Khan for her debut Bollywood outing? And, the one to add just the right emotional quotient to the story was Deepak Dobriyal. Don't know why Amrita Singh keeps coming back as this angry not-so-young woman foiled in a character guilty of much; but she does it well.
Music Of The Movie:
'Hindi Medium' is a well-shot film with situationally damm perfect songs and properly timed screenplay with right mixture of humour. Just in the second half, it lags a bit and probably could be shortened to approximately ten minutes. But move over these. It elevates, raises important questions.
We, as a country, have got our share of an unfair obsession towards everything Western. Soaps, bath towels, lingeries, chocolates, holiday destinations; and well, why not the language too? Not any other foreign language but only English makes the cut. What was supposed to be relish as an enriched literature and remove the hurdle of language in global knowledge-exchange, became a barrier itself. What was supposed to be a means of fantastic communication, started ceasing the weaker ones from communicating. We, the privileged ones, comfortably took it up as a status-quo, leaving our own roots dusted, unnoticed. And not to forget, we get ready to kill when the child gets any bit of English wrong. We wean education away from its purpose and push the child to a decaying colour of rootlessness. Sounds scary? It is.
Watch Or Not?
'Hindi Medium' is particularly a must watch because it will widen your eyes and show you that your desperation for your child's 'best education' can often lead you to despair. Do not, and DO NOT kill the slush of childhood. The tender moments spent wrapped in compassion and a real connection to the society will teach him what the air conditioned classrooms and luxurious swimming pools won't.
Strikes a chord, doesn't it?
Also See: Irrfan Khan, Saba Qamar Starrer 'Hindi Medium' Official Trailer Is Here And It's Hilarious