COMPLETE REVIEW OF "BAREILLY KI BARFI"
Directed By: Ashiwny Iyer Tiwary
Produced By: Junglee Pictures, BR Studios
Star-Cast: Rajkummar Rao, Ayushmann Khurrana, Kriti Sanon, Pankaj Tripathi, Seema Pawar
Duration: 2 hours 2 mins
Rating: 3.0/5 *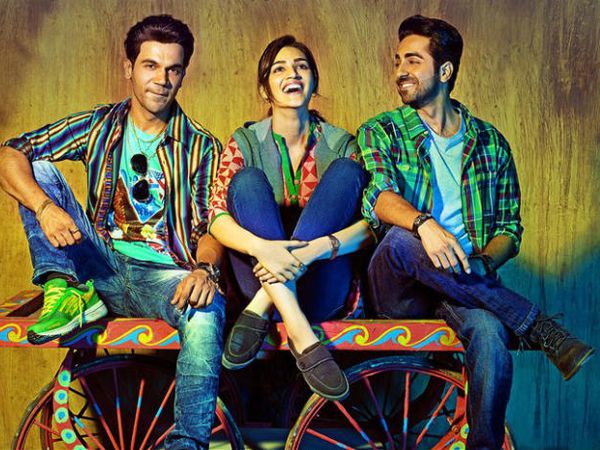 After half a year, we all had started to believe that 2017 is not the year for good Bollywood films. But looks like the second half of the year has something in store to prove us wrong. And thank God it did! A couple of movies which did well were 'Hindi Medium' and 'Toilet: Ek Prem Katha'. And now we have another simple yet delightful movie 'Bareilly Ki Barfi' which showered its magic.
When we watched 'Nil Battey Sannata', we were sure that director Ashwiny Iyer Tiwari knows how to portray a story to life in the simplest of ways. 'Bareilly Ki Barfi' is another such story which has let our expectations out of Ashwiny be stable.
Story of the movie:
Bitti Mishra (Kriti Sanon) who smokes, loves break dancing and is a Hollywood movie buff looks like a complete mismatch to the otherwise small town Bareilly. She finds uncanny resemblance with a character in a book titled 'Bareilly Ki Barfi' and is super excited to meet the author of the book Pritam Vidrohi (Rajkummar Rao). In the journey of her search, she meets Chirag Dubey (Ayushmann Khurrana). Since the two grow fond of each other eventually, Chirag agrees to bring Pritam to Bareilly to meet Bitti. The story of the movie eventually converts to be a romantic love story,but it has a lot more in store in terms of the emotions instilled.
Direction of the movie:
We must give immense credits to the writer of this film Nitesh Tiwari along with Shreyas Jain and Rajat Nonia, who has kept the comic timing just right to give a love story a fresh humorous look to it. This is what makes the film more interesting unlike other funny ones in the last few months. Ashwiny's directions on each character has flawlessly made an impact on the audience. Bitti's character to be precise is naturally basking in self-love and Kriti's performance as an electrifying girl shows off evidently.
Star's Performance:
Since it was a love story, and since we've seen a lot of them, we sort of knew how the story would end. But even after the predictions, the splendid performances of all the three is worthy enough to watch it even till the end. Pankaj Tripathi, shows as a supportive father to a daughter against the societal norms has been perfectly crafted. Seema Pathwa's character as her mother who's forever worried for her daughter's wedding is aptly shown. Ayushmann Khurrana is always wonderful with his natural acting but the one who grabs more attention is Rajkummar Rao. Rajkummar has played two extremely opposite characters at the very same time and perfectly slayed at it.
Music & Cinematography:
Ashwiny has made Gavemic U Ary shoot the film, the same cinematographer who shot 'Nil Battey Sannata'. So we know how detailed his camera angles get while shooting a simple sequence. The editing is very smoothly done by Chandrashekhar Prajapati. Background music is also just on point with situational songs adding a star to the storyline.
Watch or Not:
'Bareilly Ki Barfi' is surely a must watch for all the love story lovers & humor lovers.
Watch the trailer here!
Also See: Watch The Teaser Of Paresh Rawal & Rishi Kapoor Starrer "Patel Ki Punjabi Shaadi"