Filmmaker Anurag Kashyap on Wednesday launched the first poster of "Gurgaon", a noir suspense thriller, which is slated to hit the screens on August 4.
Inspired by real and true events, "Gurgaon", starring Akshay Oberoi, Ragini Khanna and Pankaj Tripathi, is the directorial debut of National Award winning cinematographer Shanker Raman.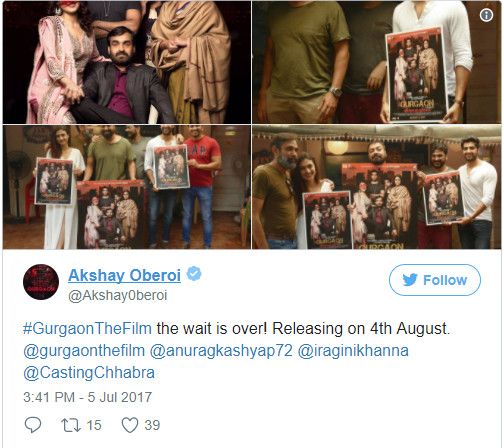 Kashyap said in a statement: "I saw 'Gurgaon' last year and for me, it is genuinely one of the best suspense thrillers I've seen in the longest time and it's in my list of best movies. The amount of tension the movie builds, it's not only engaging but it also has some phenominal performances. It's worth watching."
The film tells the story of Kehri Singh, a real estate baron, who runs his business Preet Real Estate in his daughter's name. She is his true lucky charm.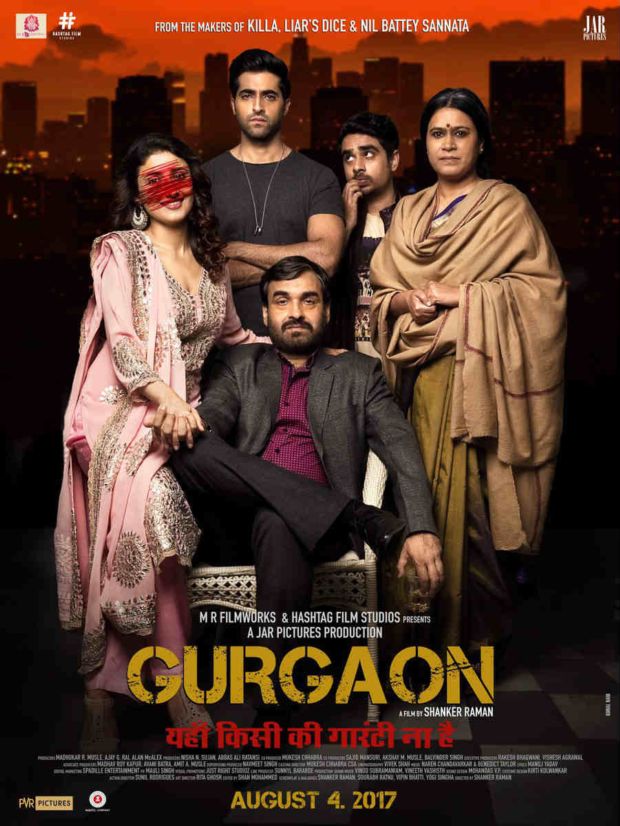 Poster of 'Gurgaon'
Kehri Singh's oldest son Nikki Singh is often sidelined by his father as a good for nothing, who brings only bad luck.
Driven by his need to pay off a large debt to a local bookie, Nikki Singh sets off a chilling chain of events, that unwittingly force his cold-blooded father to accost his buried past.
Ajay G. Rai, the producer of "Gurgaon" and co-founder of JAR Pictures along with Alan McAlex, said: "'Gurgaon' is a noir thriller and a very special film for JAR Pictures. This is our fourth film to release after 'Liar's Dice', 'Killa', 'Nil Battey Sannata' and the first film that we are releasing on our own. We are really looking forward to the audiences' response."
Rai and McAlex are producers of this great film along with Madhukar R. Musle of M.R. Filmworks, Nisha N. Sujan of Hashtag Film Studios and Abbas Ali Rattansi.
Talking about his directorial debut which he also co-wrote, Shanker said: "This film has been built and supported by unique talent. The fact that it is ready for a nationwide release is evidence that anything is possible when we love and support each other. Come celebrate their work and be a part of it."
Ragini said when she read the script, she was excited that the director saw her as a real actor and not just as a bubbly girl out of a TV show.
"To get an opportunity which is so creative, is very evolving for an actor. It was liberating for me as I explored a lot of unseen emotional areas and it was a journey of self-discovery. Shanker was very generous, so it was an enriching experience working on 'Gurgaon'," she added.
Akshay is equally super excited.
"The story is about a strained relationship between a father and a son, set in the fastest emerging city in India, Gurgaon," he said.
Also Read : Ram Gopal Verma And Anurag Kashyap DEADLY KISSING In Public Just Broke The Internet!