Baadshaho', directed by Milan Luthria, surely looks very dynamic in terms of acting and the content. The film is a thriller set on the backdrop of the emergency era of the 1970s. We are waiting for its release which is on 1st September 2017.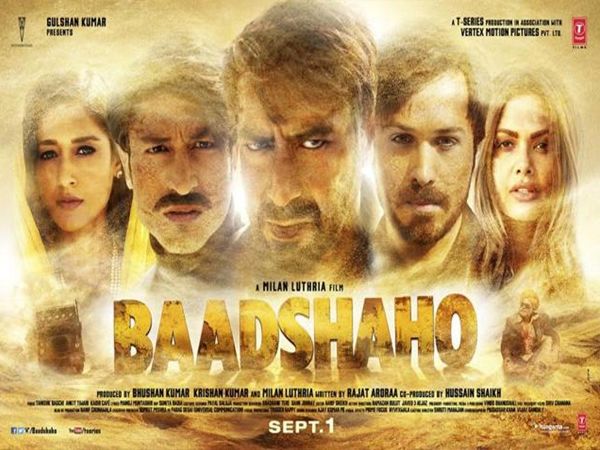 Meanwhile, scroll down below to see the interesting characters and their posters! You will surely be intrigued to find out more about them.
10 days to Baadshaho! 💥 pic.twitter.com/esUIRkRX01

— Ileana D'Cruz (@Ileana_Official) August 22, 2017
Ileana D'Cruz plays Gitanjali in 'Baadshaho'. As we can make Out, her character is of a strong classy royal woman and would surely stand as an inspiring image to the women of our country.
10 days to Baadshaho. Thank you for the excitement for our badasses @imsanjaimishra pic.twitter.com/w9O2Fud7dj

— milan luthria (@milanluthria) August 22, 2017
Sanjai Mishra has always been in the limelight for his selection of movies and his phenominal acting. This character as well will explore a different side of the performer in him, and we can't wait already!
10 Days To BAADSHAHO pic.twitter.com/mpH5DzAJ2n

— Esha Gupta (@eshagupta2811) August 22, 2017
Esha Gupta is sure to impress everyone with her acting and appearance both, in 'Baadshaho'. The sensational bombshell never fails to make a mark. Esha nailed it in 'Rustom' with her grey character and we expect the same this time too!
10 Days To BAADSHAHO pic.twitter.com/C2FZiTnyT0

— emraan hashmi (@emraanhashmi) August 22, 2017
Famous for his lip-locks and often referred to as the serial kisser, Emraan Hashmi surely makes people go gaga over his sizzling chemistry with his leading ladies. Dalia is his character and we can vouch he is going to give us the same goosebumps this time too.
10 Days To BAADSHAHO pic.twitter.com/1EVj6T2YZO

— Ajay Devgn (@ajaydevgn) August 22, 2017
Bhawani! The name itself sounds powerful enough. Most of Ajay Devgn's characters are impactful enough and the common people can relate to them. With 'Baadshaho', we will just love him more!
Also See: TV Actor Karan Wahi's Girlfriend & Model Jinita Sheth Looking Superb In A Bikini!