The most controversial film of the year, Lipstick Under My Burkha's trailer is finally released. The film starring Ratna Pathak Shah, Konkana Sen Sharma, Aahana Kumra and Plabita Borthakur, delves deeper into the secret lives of four women being told to suppress their $exu@lity.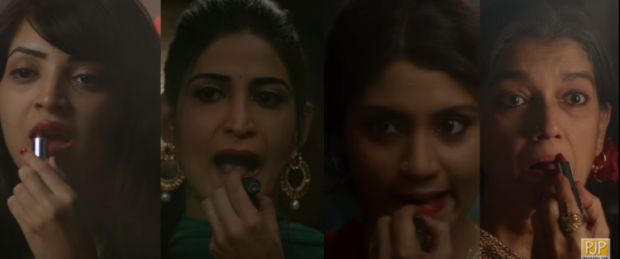 The contentious film was padlocked for being too 'lady-oriented' and received hassled for its intimate scenes and abuses.
Lipstick Under My Burkha is the story of four women who dissent and escape their tiresome lives. Konkona plays an oppressed housewife and a mother of three kids, who also lives the life of an enterprising saleswoman. Ratna Pathak Shah is a 55-year-old widow who rediscovers her $exu@lity through a romantic liaison over the phone. Aahana Kumra plays a young beautician who plans to abscond with her love and escape her small-town life and Plabita plays a college girl coming to terms with her cultural identity while aspiring to be a pop singer.
Directed by Alankrita Srivastava, the film is slated to release on July 21.
Watch the trailer here:
Also Read : TV Queen Ekta Kapoor Celebrated 42nd Grand Birthday Bash, See Pics!