The sizzling actress just had escaped from a close call of death when her private plane that she was travelling in with her husband Daniel Weber and her team, nearly crashed.
Travelling through Maharashtra on Wednesday, sunny's plane faced a gush of bad weather but everyone was safe and sound finally.
Sharing the unforgettable deadly experience of the incident during which her husband Daniel Weber was also with her, Sunny uploaded a video on her official Twitter account.
Also Read : Sunny Leone Poses With Her Husband Daniel Weber
"Everybody was freaking out in the plane and now we are heading home," she tweeted.
In the video, Sunny fearfully said: "Hey guys, Thank the Lord we are all alive! Our private plane almost crashed through bad weather. Counting our stars and driving home! Thank you, God!"
She also thanked the pilot for a doing a great job in keeping them safe. "Have to thank the pilots 4 doing such a wonderful job getting us through & alive. But You know it's bad when the pilot starts praying mid air!"
Also Read : Sunny's Sizzling Swimsuit Pics Just Rock The Internet
Footage from the plane during the turbulence! Thanks to the brave pilots who ensured that the plane landed safely!! pic.twitter.com/HryzkF1dkd

— Sunny Leone (@SunnyLeone) June 1, 2017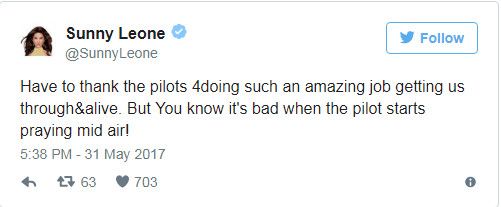 The incident occurred at 5.51pm on Wednesday while she was travelling to Latur. Sunny even posted videos she shot sitting in the same plane and which are also present on her snapchat are also all shaky which indicated there was a problem and it could get worse.
Sunny along with husband and her entire team had to travel by road due to bad weather and travelled for 6 hours before they took a halt at Mc Donalds on their way to Mumbai.
Sunny posted some more updates apart from thanking worried friends who wished her well after they heard about the unfortunate incident.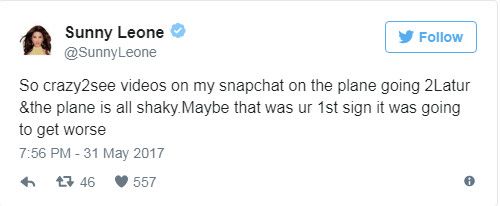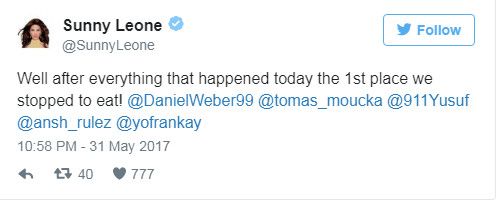 Also Read : Birthday Special : 10 Facts About Sunny Leone That Nobody Knows Except Her Hubby