Popular singer Sabita Chowdhury, widow of legendary composer Salil Chowdhury, died at her residence on Thursday after a five-month deadly battle with cancer, family sources said.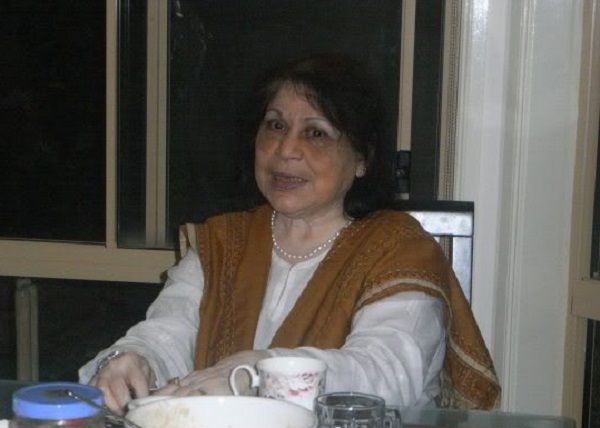 Chowdhury, 72, leaves behind two sons and two daughters. In January, she was detected with the cancer of lungs and thyroid. She was undergoing treatment for cancer since January this year and brought to the city from a Mumbai hospital in May as wished by her. "We had made all suitable and necessary arrangements at home," the daughter said.
Married to one of the greatest geniuses of Indian music, Sabita Chowdhury made a deep impression as a singer in her own way.
Many of her Bengali songs have retained their charm among the public through the decades. She also did playback singing for many Bengali and Hindi films.
Among some of her legendary, all time hit songs are "Oi jhilmil jhauer boney", "Jaare jaa jaa mono paakhi", "Jhilmil jhilmil opaarero monjil" and "Du chokhey aashaar nodi chhalachhal".
West Bengal Chief Minister Mamata Banerjee condoled Chowdhury's demise. "Saddened at the passing of popular singer Sabita Chowdhury. My condolences to her family, friends and fans," Banerjee twitted in grief.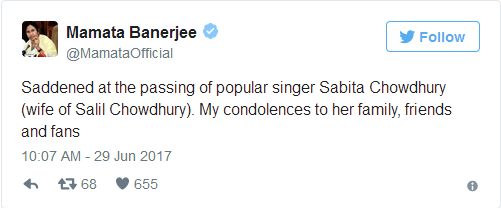 Sabita Chowdhury's body would be kept at Rabindra Sadan for people pay their last respects before last rituals. Percussionist Pt Tanmoy Bose said "it is a personal loss. So many memories flooding at this moment! She was a person full of life ".
Famous Music composer Debojyoti Misra said "she was like my mother."
May her soul rest in peace….RIP Sabita Chowdhury.