Actress Richa Chadha has clearly denied rumours of a link-up with "Inside Edge" co-actor Angad Bedi.
Richa and Angad were seen together at the 6th edition of Sportsperson of the Year Awards 2017, along with actress Taapsee Pannu and shuttler P.V. Sindhu, on Thursday.
When asked about the rumours, Richa told media persons: "There is nothing going on like that."
Angad simply nodded his head mutually .
Angad and Richa will be seen together in upcoming enthrailling web series "Inside Edge", which will have cricket as its backdrop.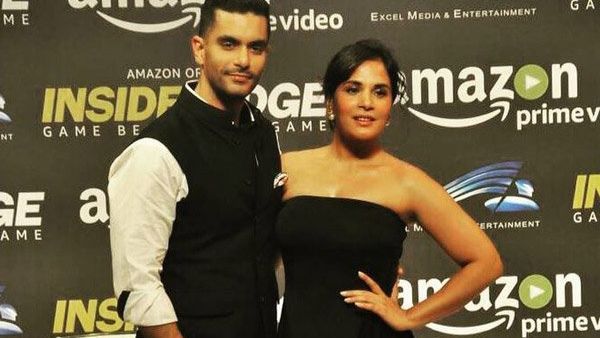 Asked about their sports interests, Angad, son of former cricketer Bishan Singh Bedi, said: "I have a sports background, so obviously I have followed sports from childhood. I have been following the India-West Indies cricket tour and now also Wimbledon has started, I have been following that as well."
Also Read : Richa Chadha's Stunning Pics From 'Man Magazine' (Apr 2017)
Richa said: "I watch various sports events like Olympics if India is part of it. It isn't as though I don't have any interest in sports. I am interested in other things in life, so it's hard to find more time to add more interests. I enjoy cricket the most, then football, badminton and squash."
"Inside Edge" is produced by Amazon Prime Video in collaboration with Excel Media and Entertainment, and is created by Karan Anshuman. It is a fictional drama that follows the ebb and flow of a team in a cricket league.
Also Read : ottie Richa Chadha & Angad Bedi's Extreme CLOSENESS Is The Latest Gossip In The Tinsel Town!