'Om Shanti Om' Bhajan Singing Show on Star Bharat
Star India, announced the launch of a channel STAR BHARAT from the 28th of August 2017, 6 pm onwards. Star Bharat will showcase inspirational stories about journeys of strong and fearless characters that rise for the goodsake of masses.
For the very first time on Indian television, a channel will celebrate the essence of devotional music with a contemporary twist. A devotional music reality show where tradition meets trend and style, creating 'trenditional' music.
Produced by Colosceum, the show will mark the debut of Swami Baba Ramdev on television as the Maha Judge. While the respected panel of judges will include Bollywood beauty Sonakshi Sinha, singer and music director Shekhar Ravjiani, and singer Kanika Kapoor.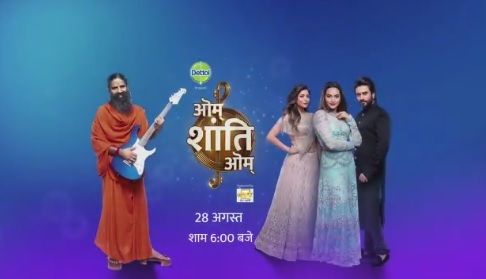 'Om Shanti Om' Singing Devotional Show on Star Bharat
Wiki, Host, Show Timing, Promo, Registration, Judges
Plot/ Concept/ Audition Wiki
The show will depict the musical journey of 14 voices that will give a special contemporary touch to devotional songs and unify audiences across the country with their renditions.
Judges
⦁ Swami Baba Ramdev as the Maha Judge
⦁ Sonakshi Sinha
⦁ Shekhar Ravjiani
⦁ Kanika Kapoor
Promo/Title Song
Show Timings/ Schedule
⦁ Show Name :-'Om Shanti Om'
⦁ Tv Channel :- Star Bharat
⦁ Launch Date :- 28 August 2017
⦁ Days :- Mon-Sat
⦁ Time :- 06.00pm
⦁ Language :- Hindi
⦁ Genre :- Singing Devotional
Also See: Star Bharat New Serial: "Kya Haal Mr Panchaal": Star Cast, Wiki, Plot, Promo, Show Timings, Title Song!