'Super Dancer Season 2' Sony TV Upcoming Kids Dance Reality Show Registration, Judge, Audition, Show Timings, Promo, Plot Wiki
Sony Entertainment Television's Kids dance reality show 'Super Dancer 'created a lot of buzz worldwide with some unique performances by the contestants and their Mentors. Now the show comes with his new Season which will be launched on Sony TV. The series will be produced by Frames Productions of Ranjeet Thakur and Hemant Ruprell. Season 1 of the show was won By Ditya Bhande and choreographer Ruel Dausan.
Plot/ Synopsis/ Conditions/ Eligibility Wiki
The Show aims to find a Kid prodigy who has the esteem potential to be the future of dance. The Kids are aged between 4 – 13 years.
They are not only required to have 3D's of dancing Desire, Discipline and Determination but also should be a keen & a quick learner and a passionate dancer with a unique personality.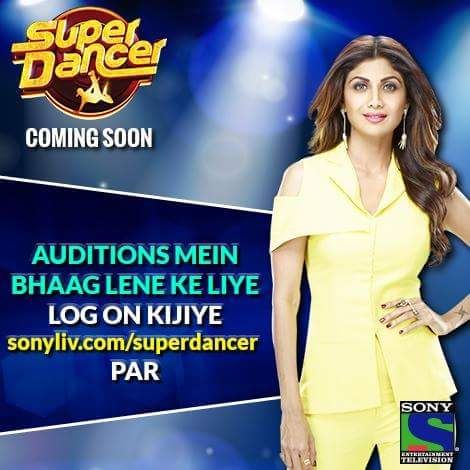 'Super Dancer Season 2' Show on Sony TV – Host, Judge, Audition, Show Timing, Promo, Plot Wiki
This show will be an ideal opportunity for every Kid to show their talent and dancing skills.It's time to bring the real Superheroes. So Kids, what are you waiting for, here's your golden chance to be the future of dance in Super Dancer.
Judge/Host: Shilpa Shetty Kundra
Super Dancer Season 2 judge Bollywood Hot Diva Shilpa Shetty Kundra says, "Excited to get back on the judges seat with my old friends and co-judges Anurag Basu and Geeta Kapur .Working with these "Super-Wonder" kids is a joy and Super Dancer is one show that I looked forward to as a judge and a viewer. The kids are unbelievably talented, energetic, innocent, come with no inhibitions and that's the best part about them.I can't wait to see the journey of the little wonders who will take forward the legacy of the show and be the next 'Dance Ka Kal'."
⦁ Anurag Basu
⦁ Choreographer Geeta Kapoor
Choreographer Geeta Kapur said, "I am enthralled to be back as a judge on 'Super Dancer -Season 2' the dance show that gained tremendous popularity. Last year, Shilpa Shetty, Anurag dada and I found extremely profound talents from across the country, and this year we hope to take the entertainment level will go sky-high. We will soon begin our nationwide hunt for dancing sensations whose moves will inspire and invigorate, whose energy will be contagious and whose commitment will move the nation."
'Super Dancer Season 2' Audition Details
The auditions for Super Dancer Season 2 will start soon and will cover around 15 cities across the nation.
Promo/ Title Song
https://www.youtube.com/watch?v=6fWBpcmMQFM
Timing/Telecast
Tv Show Name :- 'Super Dancer Season 2'
Channel :- Sony Tv (Sony Entertainment Channel)
Language :- Hindi
Genre :- Kids Dance Reality
Days :-Sat-Sun
Timing :- 8:00 P.M.
Starting Date :- 30th September
Also See: TV Show "Aarambh" On Star Plus – Story, Wiki, Star-Cast, Promo, Show Timings, Images-Pictures!