A new trailer of Jagga Jasoos is a musical of sorts. Umm…what we mean is Ranbir Kapoor's Jagga is more comfortable singing his way through conversations. He actually stammers and has a lot of difficulty completing his sentences. Remember how the first trailer was all just set against a capella? This one too begins like that, only to be explained later by Ranbir urfff Jagga: "Mere words so-so nikalte hai. Islie gaake bolta hoon. So that thoda smoooooth ho jaye." There's a mastiful surprise in the form of actor Saswata Chatterjee as Professor Bagchi who appeared to have abandoned his son Jagga in a hostel. "6 months, 7 days and 8 hours" turned into a never-ending wait urging Jagga to put out his mystery solving 'antenna' (check out his hairstyle for reference).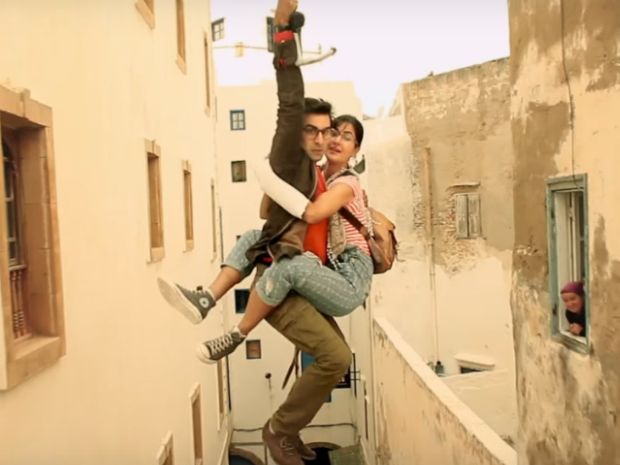 Enters Katrina Kaif as Jagga's partner in crime, better known as Jughead, and together they smell murder. What follows is a series of deadly fearing adventures, sight of which are thrown at quick successions, making it look like a movie watched in fast-forward mode. There's some gun battle, plane crashing, running on train roofs, scooter rides and a lot of hazardous and adventurous events, none of which fail to stop Jagga Jasoos. PS: Don't expect Katrina Kaif to speak much.
Meanwhile, the overall look of the trailer is that of Barfi! (also directed by Anurag Basu and shot in Darjeeling) and Saswata Chatterjee in particular of Bob Biswas (rings a bell?).
Watch the new trailer of Jagga Jasoos here:
Here's the first trailer which released last month.
Jagga Jasoos is Ranbir Kapoor and Katrina Kaif's third film together. The former couple broke-up in 2016 after dating for six years. However, it's a treat to the fans to see them promote the Anurag Basu-directed film together.
Get ready to meet Jagga Jasoos in theatres on July 14.
Also Read : Jhumritalaiyya Video Song From Jagga Jasoos