FULL REVIEW Of 'GUEST IIN LONDON'
Directed By: Ashwni Dhir
Produced By: Panorama Studios
Cast: Katrik Aaryan, Kriti Kharbanda, Paresh Rawal, Tanvi Azmi
Duration: 2 hours 15 minutes
Rating: 2.5/5 Stars
If i have to tell you in a nutshell, those who've watched 'Atithi Tum Kab Jaoge', there's nothing new about 'Guest Iin London', and if you haven't watched the former, there's noting to know about the latter. But since you're reading this review anyway, let's tell you about the movie! Aryan (Kartik Aaryan) is a smart-looking qualified software engineer based in London, who works for an organisation called 'Soft Dog'. Yeah! SOFT DOG is the organisations name in the movie. He's in a eager need of a UK citizenship and the quickest and easiest way to get that is by marrying a UK citizen. Enters Anaya (Kriti Kharbanda). Kriti drives cab, she's shagged by her parents. She decided to agree to marry Aryan and help him with a citizenship, in exchange of a lot of money (seven thousand pounds to be precise).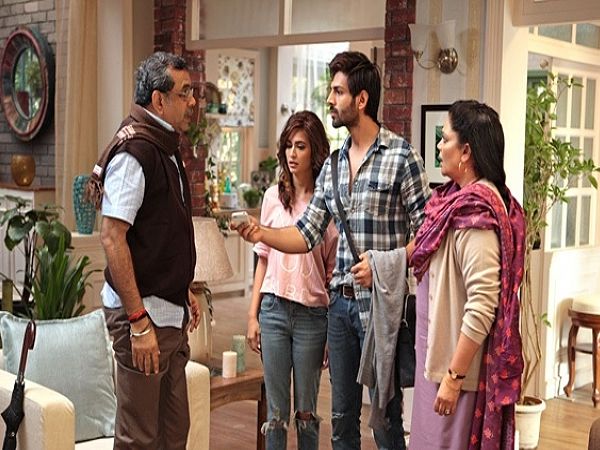 By now this feels like a 'Kites' remake and we already know that these two are going to fall in love. In no time, Paresh Rawal ( everyone's chacha ji) and Tanvi Azmi (everyone's chachi ji') arrive in London. They decide to settle down at Aryan's house and troubles bombarded one after the other. Aryan and Anaya both are irritated and so am i cause chacha ji keeps farting all the time saying, "buzurgo ke paad toh baccho ke liye ashirbad jaisa hota hai". I'm waiting for Aryan to bid goodbye to chacha ji already.
Wait, chacha ji is a terrorist? Did they say Al-Qaeda? I find myself wheezing. Aryan is so excited with the possibility of chacha ji leaving, that he calls the police and tells them not about his probable connection with terrorists, but about his expired Visa!
Chacha ji hasn't left yet, and this time Aryan is super desperate. I definitely won't tell you what happens after that.
I won't lie; 'Guest Iin London' is packed with amazing performances. Whether or not the script allows him to do much, Paresh Rawal never fails to deliver the best of him every time; and he is perfectly accompanied by Tanvi Azmi. I was smart enough to skip 'Raaz Reboot', hence this is Kriti's first film that I am watching, She is spontaneous and quick. I even liked Kartik. Now I am not sure if that's because he was nice, or because I didn't have anything else to like. But what was Ashwni Dhir thinking when he made up his mind on this khichdi of low humour, sleazy jokes on Pakistan (so not cool, by the way), lot of suppressed desh bhakti and one full song on fart?
What fails 'Guest Iin London' is that it runs short of any new interesting turn. The humour is really not humorous and is a test to your true patience.
*Shrugs*! Ajay Devgn has got an extremely special cameo in the film. He appears with his million, no wait, billion-dollar smile on the backdrop of a very colourful sky which kind of resembles a sunny-side-up egg and a cool wind fans. The best Chroma work you have seen in a long time, promise!
Raghav Sachar has given decent music though. The film is as well nicely shot. I love films that are shot in foreign locations. They make me feel rich for no reason!
Take away from the film: 'Kaaka' means son in Punjabi!
Watch Or Not: It's who has to decide!
Also Watch: Watch Party Number: "Daru Vich Pyaar" From Movie 'Guest iin London"!