DETAILED REVIEW OF 'LIPSTICK UNDER MY BURKHA'
Directed By: Alankrita Shrivastava
Produced By: Prakash Jha
Star Cast: Konkona Sen Sharma, Ratna Pathak Shah, Aahana Kumra, Plabita Borthakur
Duration: 1 hour 57 minutes
Rating: 3/5 STARS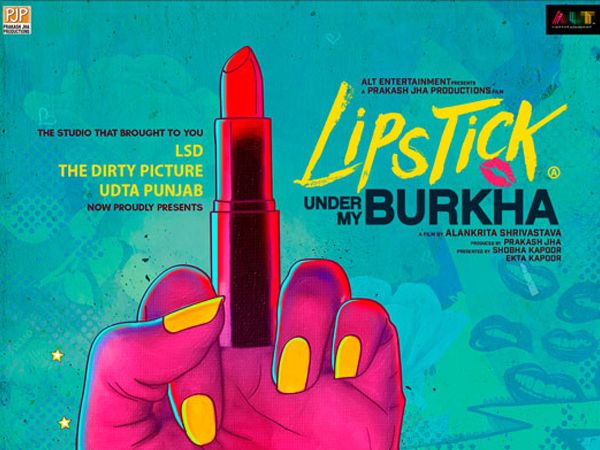 We often see that most of the fantasies come true, but the ones which we suppress and wish for, often sets us free. The story of 'Lipstick Under My Burkha' is a perfect example of these suppressed and secret desires felt by four women, who somewhat finding succour in each other.
PLOT OF THE MOVIE:
Four women who live a tough life full of revolt. A widow of 55, Usha Parmar (Ratna Pathak Shah) urf Bua Ji has kept herself starving on intimacy and love for the longest. She then tries to stir her own desires, but every move that she makes, lands her to a problem she has no clue about. Shireen Aslam (Konkona Sensharma), a married woman and a mother of three, is tired of fulfilling her husband's $exual needs which barely require any consent from her. Even after having such a life, she still chooses to go out and work, while also keeping it a secret. Rihana Abidi (Plabita Borthakur), is a Miley Cyrus fan and a passionate dancer, but is born in a very conservative Muslim family. As soon as she leaves home, she throws away her burkha. Rihana then gets the taste of college, students' movements, the forbidden late night parties and a sudden splash of love too! But she's away from the thought that this freedom of hers will cost her damm heavy. Leela (Aahana Kumra) already plans on running away with her boyfriend (Vikrant Massey), a local photographer and start off her own business wherein her family has fixed her marriage already. But humiliation is all that she gets, since she's one outspoken person and likes to voice her thoughts out.
The story that starts off as a simple one about four women who steal, lie and play around their own desires to fulfill them, 'Lipstick Under My Burkha' shows a beautiful yet courageous tale. It's your choice to pick now, which woman's story appeals to you the most, or maybe all the four of them, who have their own little fantasy to fulfill.
DIRECTION OF THE MOVIE:
After a very long time, we now have a film that is excellent in screenplay, editing, cinematography and art direction. Since the characters and stories revolves around them are so real, this movie becomes more believable,realistic & closer to real life. Director Alankrita Shrivastava, with this, leaves us expecting for more from her.
STAR PERFORMANCE:
Talking about the performances, Ratna Pathak Shah, Konkona Sen Sharma and Plabita Borthakur are outstanding . Ahana Kumra should have done a better job at expressing. The one who stays in his limits and still does wonders is Vikrant Massey.
WATCH Or NOT:
Since the movie ends on a good note, it might seem too progressive to many.
Watch the trailer here!
Also See: Watch Afghani Folk Song 'Le Li Jaan' From 'Lipstick Under My Burkha' !