Radhika Apte can ace in a photo even with a straight face. Just one look, and we're done! She recently posed for the August issue of Verve and she looks gorgeous as ever! Donning a cobalt blue one shouldered dress with ruffles on the sides, Radhika killed it with a minimal look on her face. Kohled eyes and wet combed hair is all that it needed for the iconic look.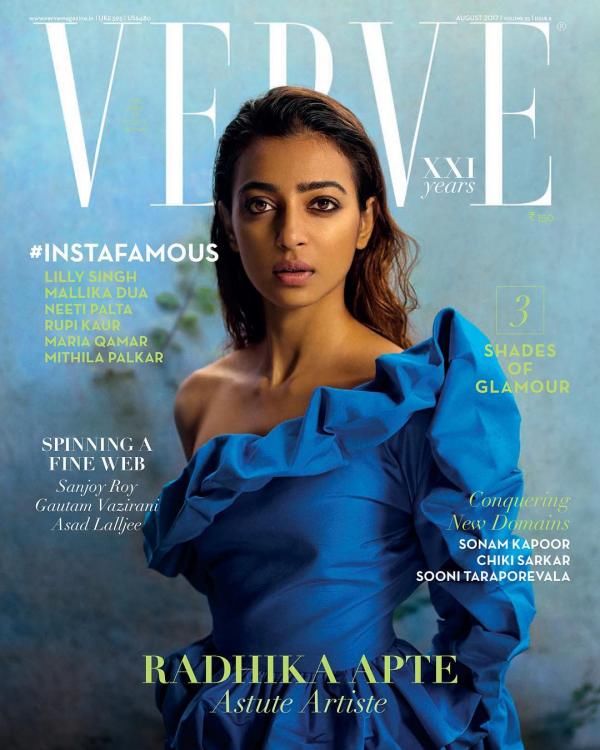 This Verve online special issue entitled the cover picture as, "Indians and the South Asian diaspora have found a firm foothold in the uneven terrain of the internet and, byte by byte, have generated an alternative celebrity bubble.
Hero or villain, there's room for everyone in this virtual reality. Judging by actor-comedian @mallikadua meteoric rise into a household name thanks to hilarious #Snapchat videos; artist Maria Qamar of @hatecopy's use of Instagram as her personal art gallery; or comedy group @allindiabakchod's catalytic #YouTube video with Alia Bhatt; one could say that the internet has essentially become the world's busiest, fastest and most approachable PR agent.
As the #internet continues to make the planet appear more navigable from the comfort of a living room sofa, we hope to use it to make more of an impact and to continue to tell the important interesting stories of the hyperconnected global village that is the world today."
We last saw Radhika in a crime thriller film titled 'The Field'.
Also See: Hottie Shraddha Kapoor Looks Splendid In This Outfit! See Pics!