Bollywood actress Jacqueline Fernandez is featuring opposite Varun Dhawan in the upcoming movie 'Judwaa 2'. The movie also stars Taapsee Pannu.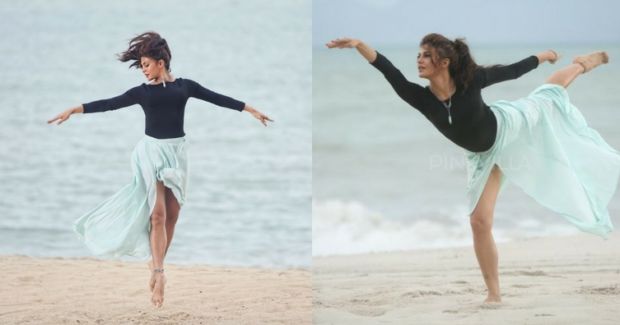 Two hit songs from Salman Khan's 1997 original, 'Judwaa', 'Tan Tana Tan' and 'Oonchi Hai Building', are being beautifully recreated.
The original 'Judwaa' that released in the year 1997 had Karisma Kapoor, Salman Khan and Rambha and it was a super -duper box office hit.
Salman Khan and Karisma Kapoor with their dance steps in Oonchi Hai Building created headlines all over the media back then. Now, Varun Dhawan and Jacqueline Fernandez are all set to mimic the footsteps of the stars in Judwaa 2.
But, Jacqueline told a leading tabloid, it took 70 hrs to get the step right. She said "When you work on the remake of such an iconic film, getting tired is not an option. I think the rehearsals helped us get in the sync. I am sure the hard work will pay off. We are nervous, yet excited, as we want to do justice to the tracks. Varun is a far better dancer, but we get things right together."
Also Read : Taapsee Pannu Teaches Punjabi To 'Judwaa 2' Co-actress Hottie Jacqueline Fernandez
Choreographer Ganesh Acharya, who had worked on the original film, has been chosen for the remake. "He choreographed the songs back in the day and is calling the shots even today. We wanted to maintain the authenticity, yet add new steps to the tracks," she said.
The first schedule of 'Judwaa 2' has been completed. The team is back in Mumbai from London. 'Judwaa 2' directed by David Dhawan is expected to be a big release by the end of September.
Also Read : Jacqueline Fernandez Sizzles On The Cover Page Of Cosmopolitan Magazine!